Seventy years had passed since Ieuan Gilmore last saw the South Korean hills he patrolled as a young man, on guard against an enemy who watched and waited as he did for them.
At the time the hills were brown and barren, scarred by explosions and lifeless. The only Koreans who Gilmore encountered were destitute children or old farmers in rice fields. The adults had vanished.
That's how Gilmore left the country in 1955, just two years after the Korean War ended. He never thought he would return, because there was nothing to return to.
"Every village that we would move through was destroyed," he says now. "Every single one, hundreds and hundreds and hundreds of villages were just gone, and many of the cities were gone."
Canada sent 26,791 military personnel to fight in the Korean War as part of the United Nations force. The conflict killed 516 Canadians, while 1,235 were wounded or declared missing in action. More than 2.7 million civilians died during the three-year war.
Gilmore grew up in Kamloops with family in the military. His uncle had been killed fighting in the First World War. His older brother served in Italy during the Second World War and survived, but was unrecognizable when he returned.
"He was a skeleton. He had malaria and double pneumonia. So my thoughts of war were not really all that exciting."
But out of a sense of civic duty, Gilmore signed up when he was just 16.
He was training with the Queen's Own Rifles of Canada in Ontario when the armistice was signed on July 27, 1953, and therefore never saw any action. But in 1954, at the age of 23, Gilmore was deployed as a peacekeeper with the 25th Canadian Infantry Brigade Group. He served as a platoon leader in charge of 30 men who were assigned to guard the then-new demilitarized zone.
Every day, the soldiers wondered if hostilities might resume. There wasn't much reason to believe peace would last.
"We expected at any time there might be action. Nobody knew. It was still very tenuous."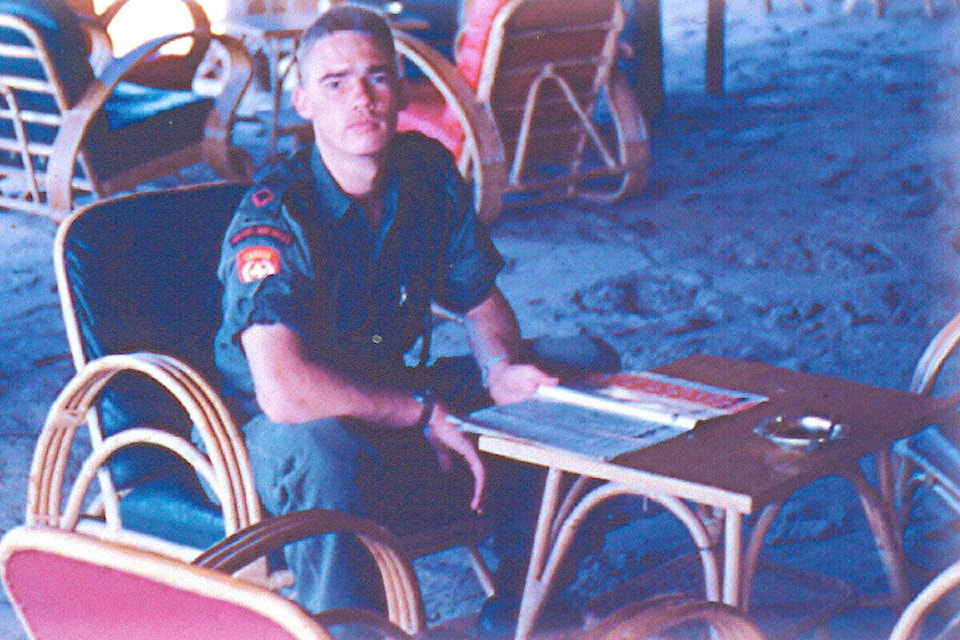 The armistice held, and Gilmore's time in South Korea was without incident. When he returned to Canada in 1955 Gilmore finished his time with the military and moved on with his life. He got a job, became a husband and father, and lived in peace.
Decades passed. Now 94 years old and in Nelson, Gilmore received an unexpected email in January from the Republic of Korea's consulate office in Vancouver.
The country was marking the 70th anniversary of the armistice that ended its conflict with North Korea — the war is technically still ongoing as no peace treaty was ever signed — and veterans from 22 countries were being invited back by Korea's Ministry of Patriots and Veterans Affairs.
Only 12 Canadian veterans received invites to return to South Korea, and Gilmore was one of them. In July, he and his wife Gillian flew to Seoul, a place he remembered being broken by war.
"I was absolutely astonished. All the hills that were burned and broken were beautifully forested. Every place there, if it has a square inch to plant something they planted. Everything was green and flowering and beautiful, and I saw two of the most beautiful cities I've ever seen in my life."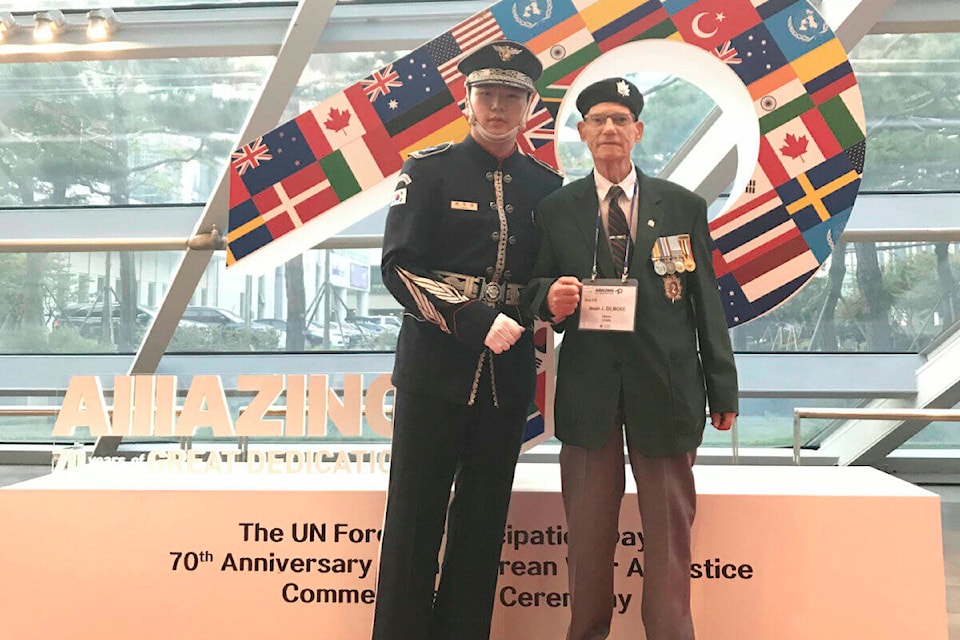 The Canadians were greeted in Seoul and provided with a Korean guide, a nurse and four staff. Their buses travelled with a motorcycle escort. Hotel staff lined up hallways to greet the veterans.
Their itinerary included visits to the United Nations Memorial Cemetery in Korea, and the War Memorial of Korea. They took a high-speed train to Busan in the southeastern part of the country, and visited the DMZ about 60 kilometres north of Seoul.
Gilmore never got to visit Panmunjom where the armistice was signed inside the 248-km long DMZ. Only days before he arrived, an American soldier crossed the border into North Korea and was detained, which led to the site being shut down to tourists.
It was a reminder to Gilmore that the war, in its own way, continues despite the progress made in South Korea.
"Everyone seems to be prosperous and happy, everybody's busy. They have total freedom and fair elections. And [just a ways] north, people are in slavery."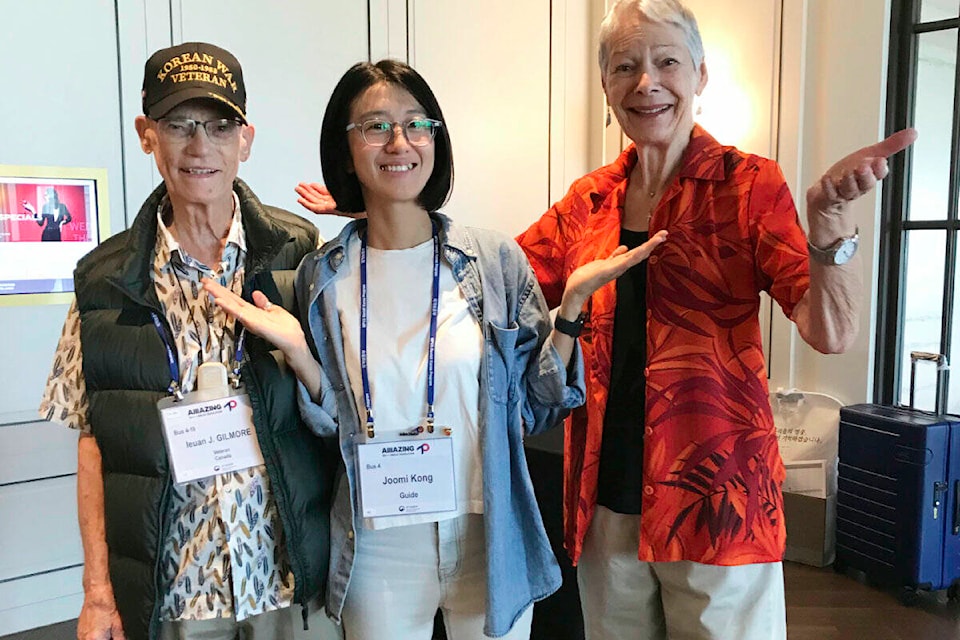 Gilmore is back in Nelson now, albeit with mixed feelings. He's grateful to have gone on the trip, especially to have seen South Korea restored from where he left it. Among the items he brought back are notes from Korean children thanking him for his service.
But he doesn't believe the world learned anything from the Korean War, which lingers on even as new wars are fought in Ukraine and now in Gaza and Israel.
"It's easy to declare war. It's easy to attack. You never know the consequences. You think you do. … History shows us that once the dogs of war are unleashed all hell breaks loose and things you've never thought of happen."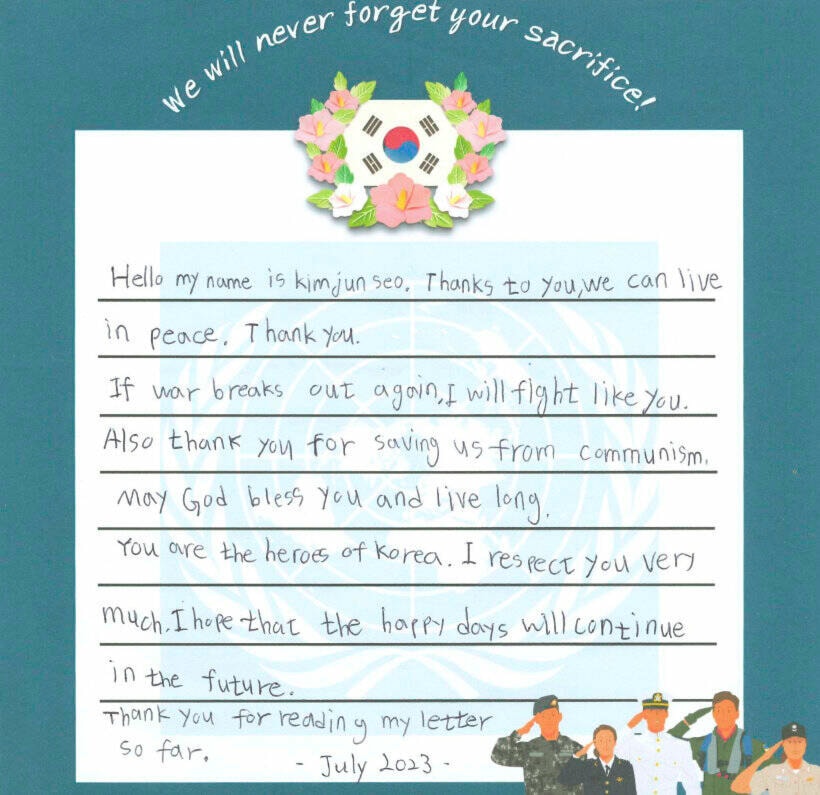 READ MORE:
• The trials of Edmund Bodine: How a Kootenay woman's parents defended Japanese officers during the Second World War